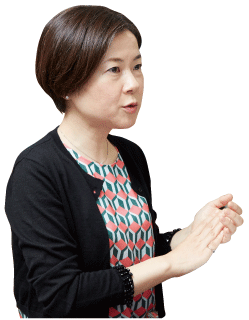 Not at all. I had been thinking that I would find employment at a corporate company upon graduation. But near the end of the third year, when students in Japan start job hunting, I just didn't feel that way. At the same time, I did not know if I could do anything to contribute to the society as a researcher. When I talked to my academic advisor, he said, "At the beginning, I myself was not confident that I could become a respectable researcher but dared to advance to graduate school. So, if you are interested in an academic career, why not pursue it?" With this advice, I made a decision to go to graduate school. Although my mother was originally against my going on to graduate school and going abroad to study, I finally convinced her (or I had her give up, you might say). In the summer of the year I finished college, I flew to the United States to study at the University at Buffalo, the State University of New York (SUNY at Buffalo).
There were three reasons for why I went to the U.S. to study linguistics. First, there were practically no universities in Japan where I could learn linguistics systematically. Second, when I was taking linguistics classes at Keio, many of the professors who taught me had their Ph.D. from graduate school in the U.S.. Third, the linguist I wanted to work with at the time was at SUNY at Buffalo.
In the beginning, I was interested in semantics. However, my interest gradually shifted to phonetics, my current research theme. With semantics, I often found it difficult to analyze the data objectively because my judgement intervened in the analysis. By contrast, approaches used in phonetics were clear-cut because no matter how subjective you might become (you should try not to though), the object that you deal with has a physical reality. The object of analysis is clearly separated from the analyzer.
Studying in the United States brought with it a number of valuable encounters. There was an overseas student who came from Togo on a scholarship from her government. When I saw her very humble lifestyle, I could really feel my privileged environment. On another occasion, a student from Saudi Arabia told me about the strict control of freedom of speech in his country. Through these experiences, I literally felt the diversity of countries and their cultures.
My research life in Buffalo lasted as long as nine years partly because I shifted my specialization to phonetics along the way. I returned to Japan in 2008.